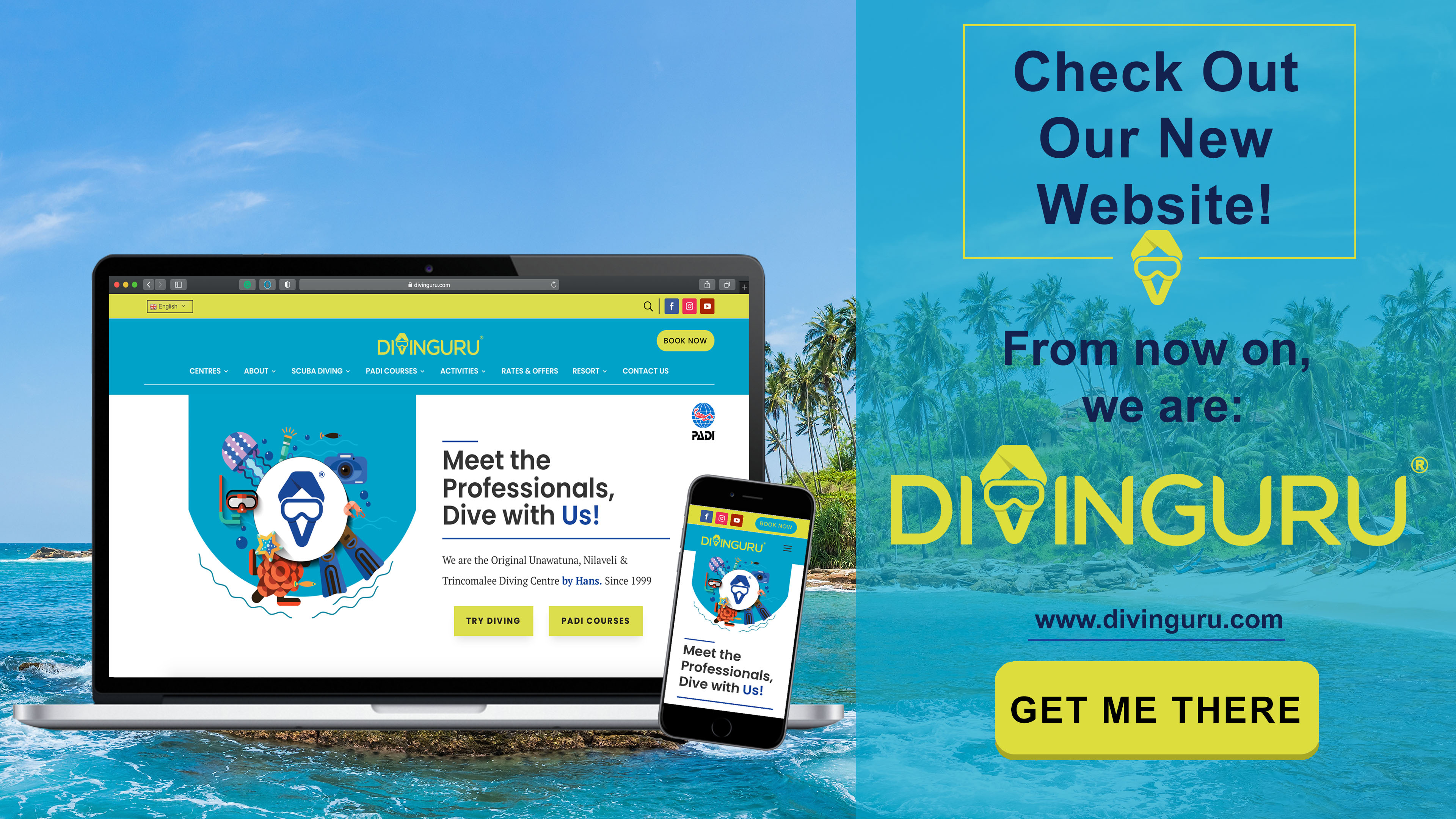 Unawatuna Diving - Your Holiday in Unawatuna
on the South Coast of Sri Lanka
Unawatuna Diving Centre - Unawatuna
Diving in Sri Lanka is our passion! Thats why we opened our first Diving Centre 1999 at the beautiful Unawatuna Bay at the south coast of Sri Lanka.

This is the official page of UNAWATUNA DIVING CENTRE, PADI 5 Star IDC Dive Resort, "The Original since 1999" and Sri Lanka's premier PADI Dive Resort, S-36133, and your gateway to the excitement and adventure of the underwater world!

The Dive Centre is open every year from 15. October to 10. April from 8 am to 7 pm. The rest of the year, the month of the south west monsoon, with rough sea and bad visibility, we are operating at our NILAVELI DIVING CENTRE, PADI 5 Star IDC Dive Resort at the North East Coast of Sri Lanka, 12 km north of Trincomalee under good diving conditions.

The UNAWATUNA DIVING CENTRE is a fully authorized PADI 5 Star IDC Dive Resort. It offers the perfect holiday under and above water. The Diving School is located around 5 km south of the City of Galle on the Matara Road (A2 from Galle to Matara), at the end of Unawatuna directly on the beautiful Unawatuna Beach, at the Indian Ocean at the South Coast of Sri Lanka.

The Unawatuna Bay has one of the most beautiful beaches of Sri Lanka. The wide, about 2 km long bay is line with palm trees. Right on Unawatuna Beach, between the Matara Road and the Indian Ocean, you will find our Dive Centre.

Our UNAWATUNA DIVE CENTRE is PADI GREEN STAR AWARDED and also PADI AWARD WINNER 2016 & 2017 for "Outstanding Contribution to the Diving Industry". It is currently the number 1 with the most PADI certifications in Sri Lanka.

The UNAWATUNA DIVING CENTRE is 100% Project Aware and donate monthly 250 AUD to protect the marine environment in our oceans.

We offer:

SCUBA DIVING FOR BEGINNERS, FUN DIVES, DISCOVERY SCUBA DIVING, PADI COURSES, SNORKELING TRIPS

We conduct all levels of PADI Courses from DSD through to Diveinstructor Level. We can teach in English, German, Sinhala & Tamil.

We also run daily fun dives (reef dives, rock dives, deep dives, wreck dives, night dives) at our 16 different Unawatuna and Galle dive sites. Attractions in Unawatuna and Galle are 3 good wrecks (Rangoon,32m, SS Oreste,22m, Galle Ship Wreck, 18m) where you can find normally a lot of different kind of fishes.

We are operating our Diving Centre with a team of international and local PADI Diveinstructors, PADI Dive Masters and local batsmen. We have also an permanent own PADI Course Director in our team who teach two times a year PADI Diveinstructor Courses at our UNAWATUNA DIVING CENTRE and two times a year at our NILAVELI DIVING CENTRE.

We are fully equipped with all sizes of rental dive equipment and running our dives and PADI Courses with 5 Diving Boats.

Our BAUER Compressor with original BAUER Filter Cartridges fills our 90 Aluminum 12 Liter Diving Tanks with fresh and clean air. We provide NITROX free of charge at our Dive Resort.

In general we are diving in small groups with max. five Fun Divers and one Dive Guide (Dive Master or Diveinstructor).

We also offer Snorkeling Trips by boat to the Galle Jungle Bay and in front of the Unawatuna Rocks.

Everybody is welcome!! Diving is Fun!!.